With the cold and flu season just around the corner, you may want to take action now to keep well when the cold months hit. Which is exactly why we've done an epic scouring of the interwebs to find the most awesome immunity-boosting drinks out there!
Coming from some of our favorite healthy living bloggers, these 5 healthy drinks will provide your immune system with a solid dose of vitamins and minerals to keep its energy up and going. Get ready to drink your way to a better health!
1. Best Smoothie: Triple Berry Kiwi Smoothie by Kelly Roenicke
Fixing yourself a smoothie is one of the fastest ways to get a good bunch of healthy ingredients into a single meal; full of vitamin C, antioxidants and bioflavonoids, this fresh smoothie makes an excellent immunity kick! Vitamin C is one of those important vitamins we need to constantly replenish – and did you know that one kiwi has over 100% of the recommended daily value of vitamin C? That's right; besides, this berry-rich smoothie is absolutely delicious!
Ingredients:
1 cup frozen strawberries
3/4 cup frozen raspberries
1/2 cup frozen blueberries
2 kiwifruit peeled and sliced
hit the link below for other ingredients
Directions: 
Thaw the berries, add the rest of the ingredients and blend until smooth.
See the full recipe, details and nutrition info at The Pretty Bee
Best with Lemon: Honey & Ginger Warm Lemon Water by Emily Kyle
An easy-to-make, mood lifting drink from a plant-loving, whole foods dietitian. Lemon for loads of vitamin C, ginger for sweating the toxins right out, honey for natural sweetness and flavor… This delicious and naturally soothing drink will give your immune system a gentle (but confident) boost!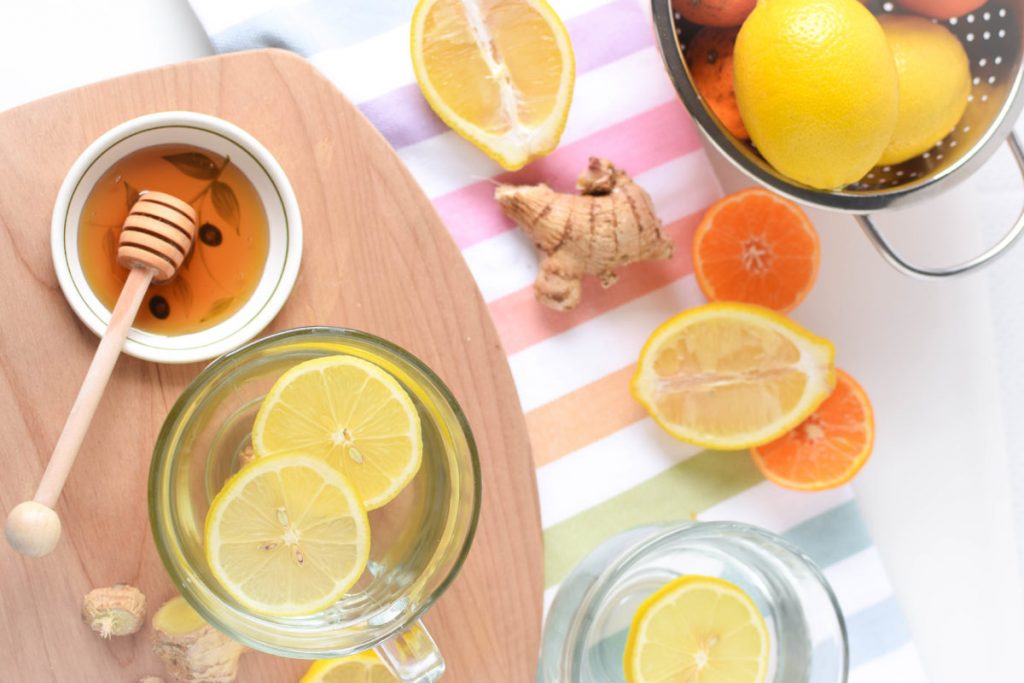 Ingredients:
1 organic lemon sliced
1 " piece of fresh ginger peeled and thinly sliced
1 teaspoon of raw or local honey
8 ounces of boiling water
Directions: 
Add lemons and ginger to the bottom of your favorite cup.
Pour boiling water into the cup.
Stir in honey as desired. Enjoy!
See the full recipe, details and nutrition info at Emily Kyle Nutrition
Best with Probiotic: Orange Carrot Coconut Smoothie by Lindsay Cotter
Your digestive tract has an important relationship with your immune system, so by supporting one, you support the other. Naturally sweetened and creamy, Lindsay's bright orange smoothie contains all the goodies at once: carrots and oranges (read: loads of vitamins), yogurt or kefir (read: good gut bacteria). Do we need to say more?..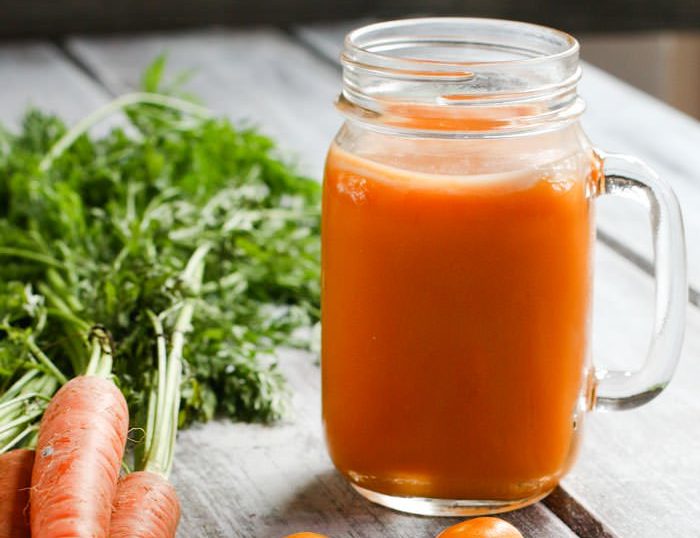 Ingredients:
4 to 6oz coconut milk or almond milk
1/2 c coconut kefir or coconut flavored yogurt
6 oz fresh orange juice
4 oz 100% carrot juice
*Optional –  2/3 cup frozen pineapple for extra thickness 
Directions: 
Place ingredients in a blender. Blend and serve!
See the full recipe, details and nutrition info at Cotter Crunch
Best with Herbs: Super Herbal Infusion Tea by Jennifer Prentice
Did you know that the tea – the right kind of tea – can be full of nutrients that are easily absorbed and used by the body? Jennifer, a mom of four in pursuit of health and wellness, testifies: drinking daily super herbal infusions can be a great way to supplement vitamins and minerals in your family's diet.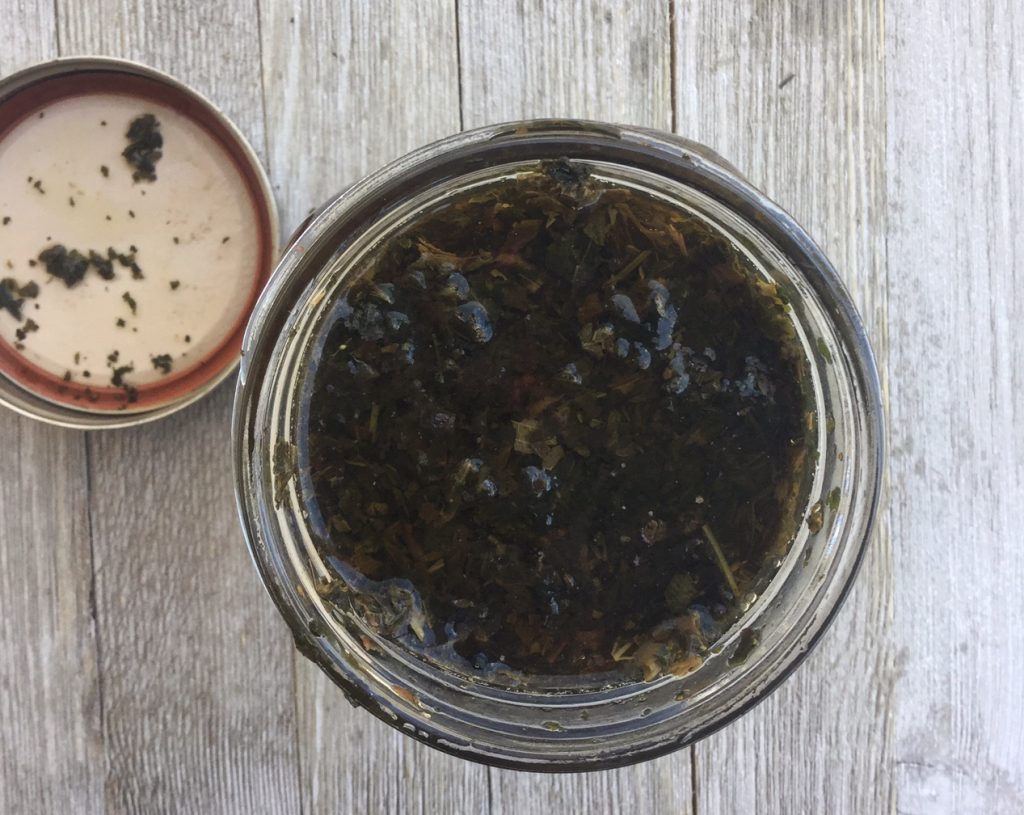 Ingredients:
1 oz dried herbs (by weight) or approximately 1 cup of herbs such as nettle, red raspberry, red clover, oatstraw, linden flowers or a mixture.
1-2 tbsp (or more, to taste) of dried peppermint or spearmint (optional)
Boiling water to cover herbs and fill jar
Directions: 
Add dried herbs to a clean, wide mouth glass quart jar and cover with boiling water. Screw on the lid and let the tea steep for 4-10 hours or overnight on the counter.
Strain the herbs and squeeze out any remaining liquid. Serve either hot or cold and refrigerate any remaining liquid. Reheating is fine. The infusion is best consumed within 2 days.
See the full recipe, details and nutrition info at My Healthy Homemade Life
Best with Magic Ingredient: Sea Buckthorn Tea by Elena Szeliga
Here's the deal with sea buckthorn: it's a little-known (and therefore hard-to-find) superberry. With 14 essential vitamins, omegas, antioxidants and anti-inflammation properties, sea buckthorn has the nutritional profile so impressive that it's been considered a cure-all in Russia and Eastern Europe for many centuries! Elena's blog features a lot of immune and metabolism boosting drinks, and this sea buckthorn tea is by far our favorite; it will keep you warm, cozy, and more resistant to the nasty seasonal colds.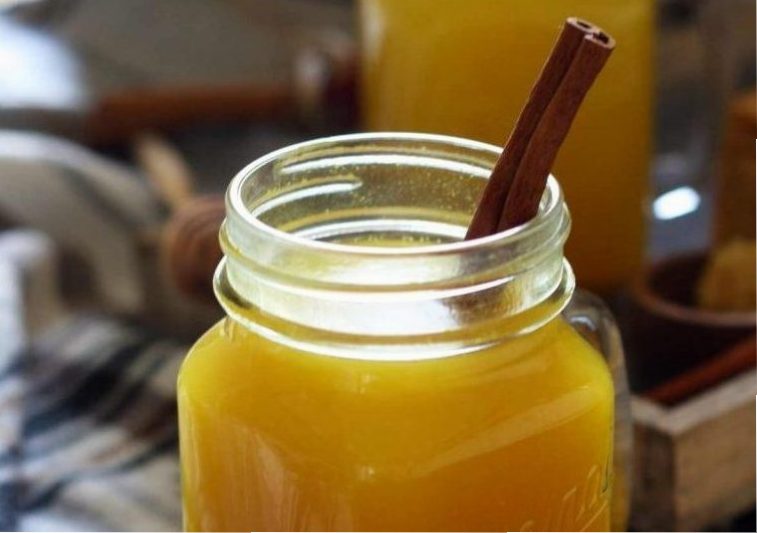 Ingredients:
100 grams or 3.5 oz sea buckthorn
2 sticks cinnamon
500 ml or 2 cups boiling water
2 teaspoons honey
Directions: 
Wash the sea buckthorn berries and discard any broken ones.
Transfer to a tea can and muddle the berries with a pestle until the juice is released. Add cinnamon sticks.
Pour boiling water into the tea can and let rest for 5 minutes. Strain and serve with a teaspoon of honey per cup. Enjoy!
See the full recipe, details and nutrition info at Happy Kitchen.Rocks
Building a better immune system is one most important steps towards a healthy and active life; we hope that these recipes have inspired you to drink in some immunity. Enjoy these delicious and good-for-you smoothies and teas and remain healthy and energetic throughout the cold months!
What's your favorite way to stay safe during the cold and flu seasons? Share your thoughts in the comment section below!